Available for purchase until Nov. 22nd!
A UNIQUE SELF-CARE PACKAGE MADE JUST FOR YOU

Frequently asked questions
Questions about the Workshop Series
I'm not sure which of workshops to attend.
---
Our workshop registration allows for you to select different tracks to register for.
Whole series track: includes all of the workshops
Survivor track: includes the yoga & tai chi workshops
Leader/ally track: includes both of the education seminars (Mood Disorders & Trauma through a Survivor Centric Lens & Consent Culture on College Campuses) & our new workshop on How to be a Powerful Ally
Social service track: includes just the education seminar on Mood Disorders & Trauma through a Survivor Centric Lens
---
What if I don't identify as a survivor, but I want to do the yoga & tai chi classes?
---
You can ABSOLUTELY attend all of the workshops regardless of how you identify and even if you don't want to self-identify. It is not a requirement for you to identify if you don't feel comfortable. We set up all of our workshops to put survivors first and create a safe space for all to work on their healing journey.
---
Is the workshop series free for me if I identify as a survivor?
---
YES! For each workshop track, there is a different coupon code you can enter for a 100% discount if you identify as a survivor:
Whole Series Track coupon code: survivor1
Survivor Series Track coupon code: survivor2
Leader/Ally Track coupon code: survivor 3
Social Service Track coupon code: survivor4
This is where you enter the coupon code: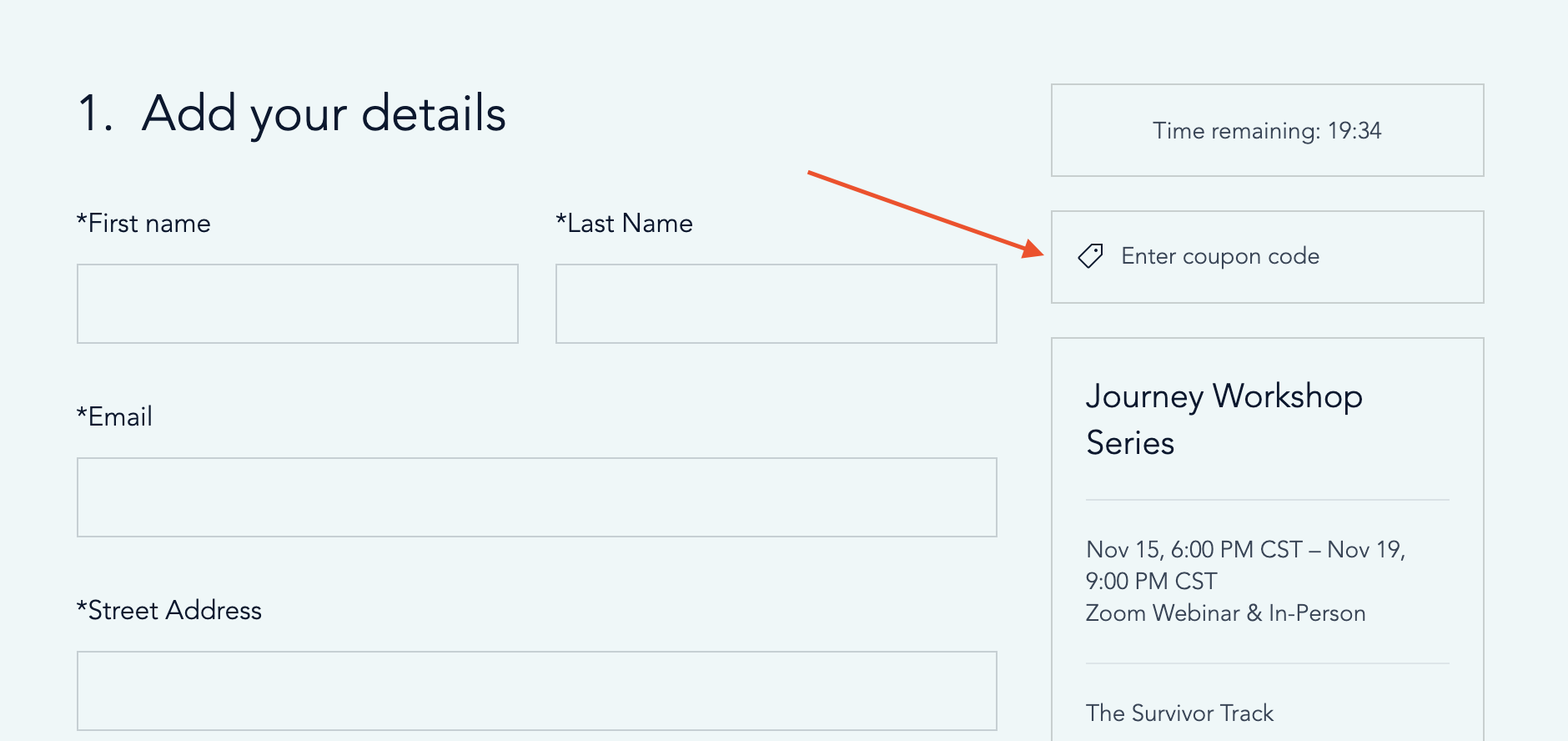 ---
I'm worried about who is going to attend the workshops. How can you help me feel safe?
---
All of our virtual workshops are webinar format to promote anonymity.
---
Will I get a discount for the Journey's End celebration if I register for the workshop series?
---
Yes!!! When you complete your registration, you will receive an email with a 25% discount code for the Journey's End celebration. Make sure to purchase the early bird price of the General Admission/VIP ticket for the Journey's End by Nov. 22nd!
---
I would love to bring these workshops to my workplace! How can I get in touch?
---
We have Corporate Offerings that promote the importance of employee wellness and safe spaces to increase productivity and social inclusion in your people culture. Please email info@selfreclaimed.org if you'd like to learn more!
---
I would love to have a tailored education program for my group/organization. How can I get in touch?
---
We offer curated education curriculums for our community partners depending on their member's needs and interests. Email info@selfreclaimed.org!
---
Can I get CE credits for the Approaching Intersections: Mood Disorders & Trauma through a Survivor-Centric Lens Education Seminar?
---
This workshop does not count towards CE credit. This workshop is intentioned to be a precursor to our CE Curriculum for social workers and counselors in 2022. When you attend this introductory workshop, you'll receive a 20% discount for our entire CE curriculum next year!
---
Where are all of the proceeds for this Journey Series going toward?
---
This year, we have a very important goal to raise at least $4,500 to hire three Care Guides for our Care Guidance Program in order to meet the mental health needs of our community. We cannot meet our goal without the help of sponsors and supporters like you and your organization!
---
Who are the facilitators for the workshops?
---
Our facilitators range from wellness teachers to education professionals. All of our facilitators have completed background checks and are versed in our values and pillars of services.
---
---